ELS conditaionaladmission
conditaionaladmission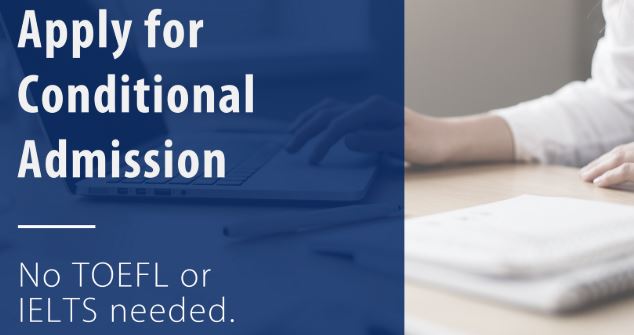 Conditaional admission in US? Based in Princeton, New Jersey, the ELS University Admission Services team has helped thousands of international students from over 120 countries achieve their dream of obtaining a college or university degree in the United States. Our team of US Higher Education experts, our strategic partnerships with over 600 US universities and colleges, and our rigorous academic English programs make ELS the perfect preparation for university studies in the US.

ELS University Admission Services advisors work closely together with our worldwide network of ELS authorized Counseling Agents. ELS matches students with the most suitable university, based on each student's specific academic history, major, experience, regional preference, budget, and career objectives.

Our Team's Process:


Advising – ELS University Admission Services is a team of US Higher Education experts who help students select the institutions that best meet their academic background, education goals, and experience. For more information, contact an authorized ELS Counseling Agent. University Agreements – Benefit from the more than 600 agreements that ELS has with colleges and universities to provide conditional admission before having proof of English proficiency. Conditional Admission – ELS helps to secure conditional admission for students who wish to choose their school, but who are lacking proof of English proficiency. This applies to Certificate, Associate, Bachelor's, Master's, and Doctoral Degrees. Document Processing – ELS handles all applications, follow up, and correspondence to the universities selected. Notification – ELS sends notification of conditional admission and all other necessary documents via express international courier.

Passway program

Institutions in our network offer conditional admission to students who are academically admissible based on the student's academic record and other university and/or departmental and program requirements, except for English proficiency. Your admission is "conditional" based upon satisfying specific requirements prior to full admission. Once these requirements for college or university admission are fulfilled, you are able to fully matriculate. These requirements will be outlined on your Conditional Letter of Admission, and your selected ELS center will assist you in completing all of the necessary requirements for matriculation.

Additional matriculation requirements may include fulfillment of the institution's English language proficiency and/or other required scores, for example, GMAT® or GRE® for graduate programs.

Our ELS University Partners will offer a Conditional Letter of Admission (CLA) detailing the additional requirements needed for matriculation. You and your family can be assured that you have a university placement and ELS registration prior to departing for the USA.
University List